Now OPEN in Hallandale Beach - The NEW Beach Walk Resort and Condominium in Hallandale Beach
Though the ocean may seem timeless, it is actually always evolving, always progressing, always designing. So to is the soon to be offered world of the Beach Walk condominium residences in South Florida's, Hallandale Beach – 300 luxury waterfront condominium residences and resort condos directly on the Intracoastal Waterway. The now open Beachwalk Resort condominium features leading-edge design and artistry elevating Hallandale Beach in South Florida waterfront living to a newer, more modern level.
The 300 Beachwalk Resort Hallandale Beach condominium residences include 216 fully decorated and furnished two-bedroom residences for part time residency and use in the resorts rental program, and 84 two- and three-bedroom residences for full time residences, delivered decorator ready. Condominium floorplans range from 1,100 sq. ft. to over 1,800 sq. ft. under air.
Located directly on the Intracoastal Waterway in Hallandale Beach, the Beachwalk Resort condominium and resort provides a peaceful atmosphere, free from busy crowds while still offering exclusive private beach-club services, relaxing waterfront living, beautiful water and ocean views, and much more...
The Hallandale Beach Beachwalk condominium is mere moments from the ocean and is just minutes from golf and country clubs exciting racetracks and casinos, fun-filled parks and attractions, world-class shopping, great dining, entertainment, the arts, and more.
Don't forget that Beachwalk condominium owners and residents have exclusive access to the luxury Beachwalk Beach Club directly on the ocean, mere minutes away. A luxury beach club with the finest of services and amenities. And of course Beachwalk provides a free shuttle to and from your residence to the beach club for all it's residents.
Few things in life are more gratifying than the stunning views, masterful design, and unparalleled services that make up daily life at Beachwalk. The two- and three-bedroom residences were created to be both inviting and impressive. Floor-to-ceiling windows, open-concept layouts, wide terraces with glass railings, "smart building" technology, high-speed wireless internet and communications, and designer European-inspired finishes are just a few of the ways your residence will change your expectations about seaside living.
Your Beachwalk residence as an Investment - As mentioned, in addition to an exclusive beach-club way of life, Beachwalk also offers a unique hotel scenario that's perfect for part-time residents seeking the ultimate benefit of a property that generates rental income throughout the year. These 216 beautifully finished and furnished units come with all the same finishes of the condo units, with added features such as:
Fully finished interiors furnished with contemporary Italian designer furniture
Living Rooms appointed with luxury furnishings and LED "Smart" televisions
In-suite technology, including high-speed internet access, WiFi, multiple phone extensions with voicemail, and individual climate control
Security features including in-room safes and electronic door locks
All hotel services managed and operated by famed hotelier, Gemstone Hotels & Resorts
The Hallandale Beachwalk Resort -Style & Amenities designed for for life
Spectacular 31st floor Cielo Room pool deck with infinity pool overlooking the Atlantic Ocean and private cabanas
Exclusive Beach Club access with complimentary shuttle to ocean-side luxury services for food and beverage, beach services, lounges and more
Beach Club features infinity-edge waterfront pool, plush seating, and access to the Beachwalk Bar & Grill
An on-call concierge staff for dinner, spa, and nightclub reservations, event ticket services, yacht charters, travel itinerary planning and more
Available housekeeping, cleaning and laundry staff
24-hour room service offered to all units, 365 days a year
State-of-the-art, fully equipped fitness center and cardio theatre with Atlantic Ocean views
Health Spa with men's and women's saunas and steam rooms
Wireless high-speed Internet throughout the common areas
High-speed elevators
24-hour valet parking
Full-featured security system
Valet
Shuttle to/from Beach Walk & the Beach Club
Beachside towel service
Beachside cabana, chaise and umbrella service
Beachside food and beverage service
Plunge Pools
Onsite Spa Services
On-Site restaurant with dining on the Intracoastal
Sundry shop
Member's only invitations and events
The exciting full service Beach Walk condominium property is was completed at the end of 2014, with opening in early 2015.
Hallanda Beach Beachwalk Preconstruction Pricing -
Average preconstruction pricing* approximately - $400 per sq. ft.
January 2015 NEWS - Recently published (end of 2014) releases from Beachwalk states that nearly 98% all property units have gone to contract with only a few developer units available. Some early purchasers are offering their units back on the market - Contact me directly for available Beachwalk condo and resort/hotel residences available.
Beach Walk Condominium & Resort Residences Descriptions with Price Ranges*:
*prices and price ranges subject to change without notice
2 bedroom / 2 bath: 1087 sq. ft. - 1100 sq. ft.
Preconstruction price ranges from: $385,900 - $530,000
$355 per sq. ft. to $484 per sq. ft.
3 bedroom / 3 bath: 1711 sq. ft. - 1853 sq. ft.
Corner residences with ocean and Intracoastal Waterway views and private elevators
Preconstruction price ranges: $531,900 - $835,000
$310 per sq. ft. to $488 per sq. ft.
All 3 bedrooms from 3rd-33rd floor are condominium residences.
All 2 bedrooms from the 31st-33rd floor are condominium residences.
All other residences are resort condos which come finished and furnished with a maximum of a 90 day consecutive use.
View all the Beachwalk floorplan diagrams in our Floor Plan section above.
Beachwalk Hallandale Beach Virtual Tour Video
The NEW Beach Walk in Hallandale Beach Floorplans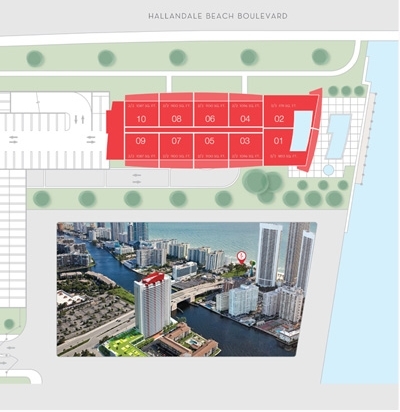 Individual Beachwalk Floorplans shown below
01 Floorplan - 3 Bedroom / 3 Bath 1,853 sq. ft. under air + 344 sq. ft. of terrace space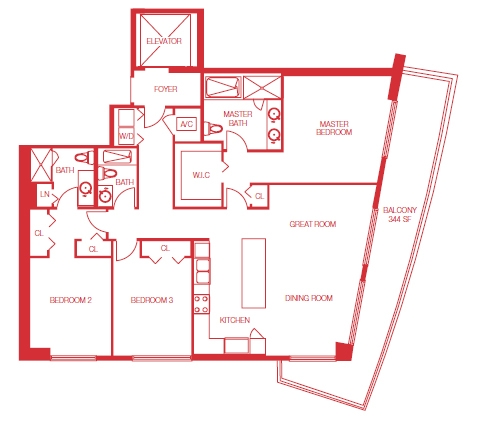 02 Floorplan - 3 Bedroom / 3 Bath 1,711 sq. ft. under air + 319 sq. ft. of terrace space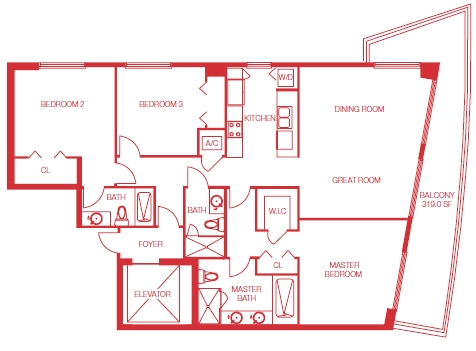 03 & 04 Floorplans - 2 Bedroom / 2 Bath 1,096 sq. ft. under air + 216 sq. ft. of terrace space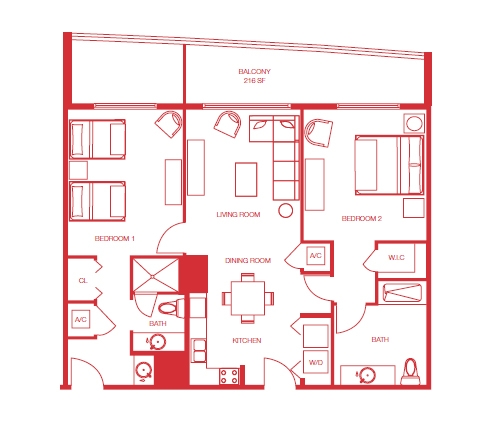 05, 06, 07 & 08 Floorplans - 2 Bedroom / 2 Bath 1,100 sq. ft. under air + 272 sq. ft. of terrace space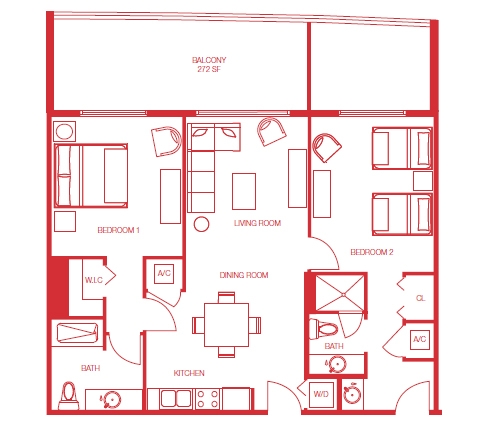 09 & 10 Floorplans - 2 Bedroom / 2.5 Bath 1,097 sq. ft. under air + 211 sq. ft. of terrace space