Tuesday, May 20, 2014
Tags:
preconstruction
,
ritz carlton residences
,
ritz carlton
,
miami beach
The developers of The Ritz-Carlton Residences in Miami Beach - Lionheart Capital recently celebrated the construction commencement of the new Ritz-Carlton Residences, Miami Beach, located at the former Miami Heart Institute site. This new luxury residential development is located directly on the water in a prime location in the heart of Miami Beach amidst a quiet, residential neighborhood where lake, bay, and waterway collide - all providing easy access out to the blue Atlantic Ocean.
The ceremony took place on the seventh floor, where guests had a 360° view of Miami Beach's gorgeous skyline, a view that the soon-to-be owners of these one-of-a-kind luxury residences will have. As this luxury property is located in a residential neighborhood, the views can not be blocked, and those living above the 2nd floor will enjoy expansive South Florida views.
The prime 7 acre lot will be home to lavish gardens, outdoor amenities, a marina and 111 luxury condominiums within the 7 story main condominium property and 15 stand alone single-family townhome villas. Not to mention a rooftop pool, beautifully landscaped grounds, with all the amenities you would expect in a new luxury condominium AND the full time services of a residents only Ritz-Carlton staff.
World-renowned architect Piero Lissoni's modern and cutting edge architectural vision will make these residences both unique, and a true dream space to create memories in.
The Ritz-Carlton Residences, Miami Beach is a residents only community with the 5-star services and amenities provided by the full time staff focused entirely on those lucky few that will call this Miami Beach community home.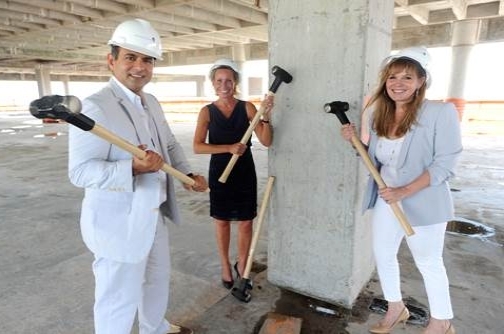 Shown at the construction ceremony above (from left to right): Ophir Sternberg - CEO Lionheart Capital, Carolyn Block Ellert - Premier Sales Group and Mayi de la Vega of ONE Sotheby's International Realty