Saturday, August 25, 2012
Tags:
South Florida Real Estate
,
south florida condominium market
,
south florida real estate market
Is A Strong & Healthy Real Estate Market Back In South Florida? - It Certainly Is!
During the last few weeks, I have been showing oceanfront condominium properties to a number of potential buyers, (2) in particular (one from New York and one from Brazil) have very particular pricing expectations and requirements for their new South Florida real estate purchase.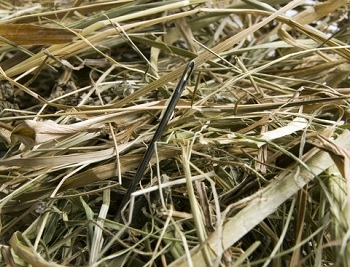 Suddenly, it feels like I'm searching for the proverbial "Needle in a Haystack" - even a year ago, I could have easily shown these two clients dozens of oceanfront condominium residences in either very new buildings or shown them still available developer units at brand new luxury oceanfront properties that would have fulfilled all their expectations in not only pricing deals, but in the quality and amenities of the property and the luxury of the residences. Finding a property that meets many buyer's expectations today, has become quite the challenge.
What does that say about the real estate market on the beach?
We are certainly back into a very positive upswing in the values of beachfront properties and a return to sellers once again seeing their South Florida oceanfront home becoming an investment that may very well show a positive return upon it's sale!
The inventory of oceanfront condominium homes is at the lowest I've seen in years and the demand is growing daily, especially for luxury oceanfront properties throughout the Greater Miami Beach area.
Why? There are many, many, MANY reasons... Just a couple would be that beginning in 2011 we experienced a "buying frenzy" of foreign buyers from Brazil, Argentina, Canada and a number of other countries, buying up a large inventory of select oceanfront properties as those properties became available for sale. There are many reasons as to why these foreign buyers took advantage of the great deals on the beach last year. A few examples include; A number of foreign currencies were very strong against the American dollar last year. Many units that were added into the market in 2010 and even in 2011 were listed at pricings that still reflected the historically lower pricing averages created from the recent "crash", so buyers were buying up exceptional deals even as the market was turning. Also many foreign buyers were seeking safer haven for their wealth from political and financial uncertainties back home. With just these few trends from 2011, I am seeing that the South Florida luxury real estate market has once again turned to the seller's advantage!
A recent Forbes article re: Foreign buyers of U.S. real estate:http://www.forbes.com/sites/morganbrennan/2012/08/10/real-estate-tourism-whos-really-buying-americas-homes/
Another South Florida Real Estate Market Shift - Homeowner Sellers vs. Investor Flippers
Another shift in today's real estate market that differentiates it from the peak of the bubble of a few years back, is the fact that most sellers are actual homeowners and not speculative investors that were trying to make substantial (and often excessive) profits by flipping either an existing condominium home or a preconstruction unit (prior to the investor having to close on their unit). This is a very positive market condition for a current buyer, as most current prices (although higher than even 6 months ago) are still very reflective of the true value of most listings, and are not artificially inflated by a glut of investor owned properties with those highly inflated pricings affecting the current market and more often than not, the recently sold comparatives.
Now, if you're a buyer - don't be dismayed at the swing in the market to what is considered a "sellers" market as there are still many great deals available. Pricings are still much lower than during the "bubble", as many of the available condos and homes are currently listed at prices that are still (to a great degree) reflective of the comparatives for sales that occurred during the downturn.
Again, as I mentioned, many of today's sellers are not trying to make a living from flipping condos and real estate, many of today's sellers are real homeowners that are just trying to sell their unit at a price that is truly reflective of the value that their home should be worth. This makes for a market that is based on true market value and not speculative value. And if you're a buyer, you can often be in a better position when negotiating with a true homeowner and not an investor.
With what I just said, I must also add that in the last couple of months, I have seen a number of large luxury units (and even a few smaller oceanfront condos) re-enter the market at what can only be described as overpriced. Evidently these sellers are hoping to take advantage of the buying frenzy and are hoping for that 1 buyer to come along where price is not an object. These sellers are hoping to win the lottery - There's a chance it might happen, but the odds are against them. Buyers, beware of these overpriced units, be sure your realtor has done ALL their homework.
Lower Inventories of Larger Luxury Oceanfront Condominium Residences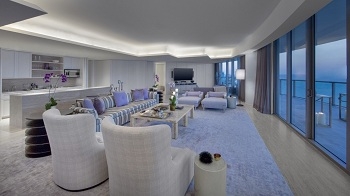 It seems that the more difficult oceanfront and waterfront condominium residences to find, are those at mid to high floors, with 3 bedrooms or more, larger floorplans (3,000 sq. ft. or more) in full service buildings that offer a wide range of amenities, features and services and that have been constructed in the last 6 or 7 years.
Now, (once again) with that being said - There are still a number of the larger 3+ bedroom luxury condominiums I just described currently on the market, BUT they are no longer priced at the kind of "pricing deals" that many buyers still expect to find.
Despite the building boom of luxury oceanfront condominiums of recent years, current inventories of available oceanfront condominium residences and penthouse homes up and down the beach from Fort Lauderdale to South Beach are now at nearly all time lows.
Recent Record Breaking Sales for South Florida Condos & Homes
South Florida luxury real estate, both condominium sales and home sales has experienced a number of record breaking sales. Whether it is the 3 recent Greater Miami Beach oceanfront penthouse sales that each set their own records, at $21.4m, $24.6m and $25m. Or the recent single family home sale in Indian Creek Island for a Miami-Dade record setting sale of $47m.
Highest sale records seem to fall by the wayside nearly monthly, while individual condominium building price per square foot pricing records seem to be set with many of the most recent sales.
New Condominium Properties Are Being Built - Will That Effect the Market?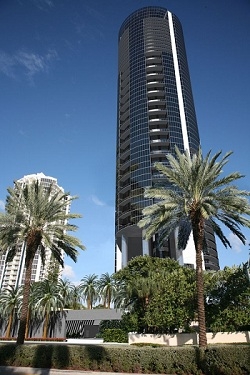 South Florida is once again seeing a return of a number of new condominium constructions - The oceanfront areas from Bal Harbour to Hollywood Beach is now seeing at least 7 new luxury condominium projects. 5 of these 7 projects are what I would consider "ultra-luxury" with starting prices at nearly $5 million... These new projects are not adding large amounts of new inventory into the market and as such will not effect most of the market I've been mentioning. However, the addition of these newer and ultra luxury condominium properties within existing neighborhoods and locations usually has a positive impact in increasing the values of existing nearby select luxury condominium properties and the residences within. As either a current buyer or a future seller, this is good thing. The soon to be constructed Porsche Design Tower Miami is shown at left.
If you are a buyer, despite the higher prices, the future of South Florida oceanfront real estate is in my opinion NOTHING but bright! If you are purchasing today, be aware that you may not find the "deal" you expected to find, but you've still got an exceptional opportunity to purchase a condominium or home in a real estate market that is once again on a very positive upswing for many reasons that have less to do with speculative pricings and real "true" pricings and market health based on the value and realistic property and home valuations.
Purchasing a home in a real estate market that has accurate pricings and is healthy and strong with buyer demand, gives you that added advantage and potential of being able to see your real estate purchase not only hold it's value, but very possibly increase in value when you decide to sell, and that is once again, a good thing!
Number of Active Listings & Pending Sales in South Florida From January 2009 to July 2012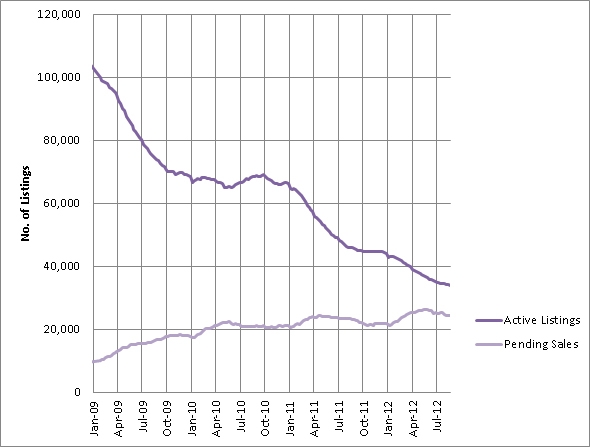 Miami Condominium Prices Up 35 Percent -
The median sales prices of condominiums in Miami are up 35.4% year-to-date, according to data released by the Miami Association of Realtors. The median sales price of condominium residences s in the area has risen for 13 months in a row, with a 15.2% increase in July compared to the same period in 2011. Additionally, single-family home prices rose 2.8%. "The Miami real estate market continues to attract demand as inventory consistently decreases, yielding significant price appreciation," said Martha Pomares, 2012 chairman of the board of the Miami Association of Realtors. The average sales price for Miami condos rose 7.9% in July alone. — (originally reported by Alexander Britell in The Real Deal Miami)
Florida Real Estate Sales Activity Continues to Increase -
Sales activity continues to increase in the Sunshine State, as pending sales and closed sales keep showing improvement, according to data from Florida Realtors. Pending single-family home sales rose 42 percent in July statewide, while condo and townhome units saw a 26% increase in pending sales. "Florida's real estate recovery is on solid ground," said Summer Greene, 2012 president of Florida Realtors. Pending sales have increased every month for single-family homes and condos in Florida since May 2011. There were a total of 17,420 closed sales last month, a 9.8 percent jump. — (originally reported by Alexander Britell in The Real Deal Miami)
Additional Articles Regarding the New Market Trends in South Florida Real Estate Foreign Cash Continues to Drive Condo Sales - http://www.sun-sentinel.com/business/fl-strada-condo-20120819,0,6430549.story
Where Did All the Florida Condos Go? - http://www.canadafreepress.com/index.php/article/48776
If you are looking to purchase a luxury condominium home in South Florida, allow the experience and knowledge of Linda G Properties the opportunity to share and provide our expertise in helping you to find the best deal and the perfect home that fulfills all your expectations. If you are considering placing your home onto the market, allow the expertise, marketing skills and worldwide reach of Linda G Properties and the one and only, ONE Sotheby's International Realty the honor of listing and selling your home.