Wednesday, June 13, 2012
Tags:
Trump Hollywood
Trump Hollywood Is Sold Out!
Record Sales in 16 months leads to Sell Out at the oceanfront Trump Hollywood Condominium.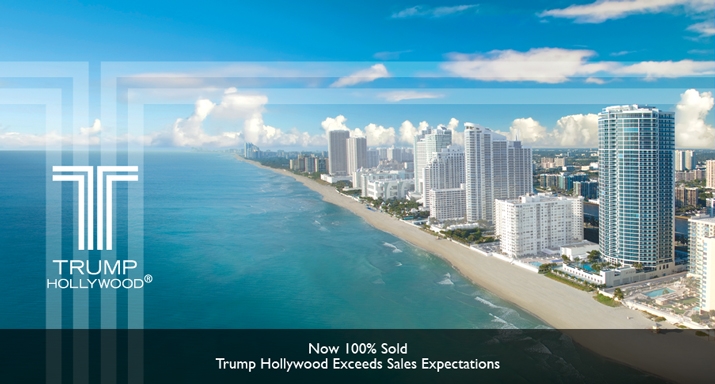 A quick note from Linda "G" - As you read this article, and might have wished you were able to purchase a luxury oceanfront home at Trump Hollywood, I want to assure you that re-sales are still available. Currently as of 6/13, there are 10 units listed on the market at Trump Hollywood, from a 2 bedroom condo listed at $1.18 million to a 7 bedroom penthouse listed at $8.35 million. I have sold a number of units at Trump Hollywood and am VERY familiar with the property. Contact me directly for more information, view the listings for sale at Trump Hollywood HERE.
Trump Hollywood just announced that, having experienced record-breaking sales in the first quarter of 2012, Trump Hollywood is now completely sold out. Since the re-launch in January of 2011, Trump Hollywood contracted 179 residences worth $276 Million, in just 16 months. Including prior sales the total reached 200 residences sold for a grand total in excess of $306 Million.
"Congratulations to BH3, the whole development team and everyone working on Trump Hollywood, it's been an amazing success." – Donald J. Trump, Owner and CEO of the Trump Organization.
Both U.S. and international buyers alike discovered Trump Hollywood as an ideal real estate opportunity offering key attractions such as location, design, amenities, and above all else, value. In short, Trump Hollywood broke the mold.
Gracing the incredible Hollywood Beach shoreline, Trump Hollywood's 41-stories captured the essence of luxury living for many international buyers who sought high-end amenities and unique design.
"The numbers achieved in the time-frame of only 16 months are absolutely astonishing and prove that with a great product at an incomparable value, record sales can be achieved in even the toughest economic times," said Greg Freedman, partner in BH3, the developer of Trump Hollywood.
"We are thrilled that we have been successful in putting Hollywood on the map as an ultra-luxurious residential destination. Trump Hollywood is an outstanding value and a one-of-a-kind property," added Edgardo Defortuna, President and CEO of Trump Hollywood's sales partner Fortune Development Sales. "Both the international and local markets have responded incredibly well to these grand, finished residences."
The Trump Hollywood Condominium success can also be partly attributed to it's financial stability. With an extremely well-funded Homeowner's Association and zero foreclosures or short sales, Trump Hollywood offers a reassuring future to its residents. The oceanfront Hollywood Beach property also offers exceptional amenities such as a 4,000 square-foot spa and fitness center, a home theater room, wine cellar and tasting salon, lavish cigar lounge with private humidors, breakfast café, private beachfront cabanas, poolside service, tennis courts, 24-hour complimentary valet, full security, and exclusive concierge staff.
The opulent common areas designed by Yabu Pushelberg pair modern warm décor with an exquisite art collection. For the residences, renowned Interiors by Steven G. offered custom-designed homes fitting for each resident, creating an ambiance of subtle elegance blended with an innovative appeal.
"The key in selling a property such as Trump Hollywood has been the astute assessment and qualification of buyers by our team," commented Michael Neumann, Director of Sales for Trump Hollywood. "We understood the process and dedication needed to attract the most discerning of buyers, and didn't take any shortcuts when it came time to sell."
Article and excerpts from the Trump Hollywood blog: http://trumphollywood.com/trump-hollywood-is-sold-out-exceeds-sales-expectations/
Contact Linda "G" directly for information on re-sale oceanfront condominium residences at the luxury Trump Hollywood condominium on Hollywood Beach.