Tuesday, October 05, 2010
Linda "G" Gustafson with ONE Sotheby's International Realty Miami Beach proudly announces a new Luxury Listing at One Bal Harbour
GORGEOUS 2 Bedroom / 2.5 Bath LUXURY OCEANFRONT RESIDENCE #1706 - $1,750,000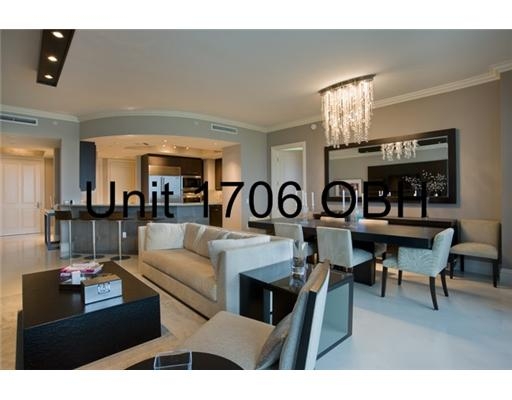 Bal Harbour, FL October 5, 2010 – Linda "G" proudly presents an oceanfront residence at the most sought after property of One Bal Harbour. This memorable waterfront condominium home offers panoramic views of the inlet, ocean and Intracoastal. The owner left no stone unturned when meticulously designing this exceptional residence.
The private elevator will lead you to a chic exclusive vestibule welcoming and impressing every guest upon entering this decadent residence. The expansive open floor plan combines the exceptional gourmet kitchen and bar with an impressive living area and dining room with water views from every direction. Let's not forget the romantic master bedroom bathroom suite with an infinity soaking tub ideal to just indulge and relax. Image at right is of the 1706 Balcony views to the North, of the Inlet, Intracoastal, Ocean and Haulover Park.

From a single grain of sand comes perfection. Sought by many yet only attained by a select few. One Bal Harbour is a treasure of classic beauty and refinement incomparable unrivaled lifestyle, One Bal Harbour is a shimmering landmark of elegance and South Florida's ultimate oceanfront destination.
Linda "G" with ONE Sotheby's International Realty adds, "I attribute the developer , WCI's brand recognition, quality and reputation as the key to One Bal Harbour's success. One Bal Harbour is the most desirable luxury property in South Florida. Bal Harbour is the Rodeo Drive of Miami and it is a privilege and honor to be representing this once in a lifetime property".

Link to the EXCLUSIVE Website of Residence 1706 at One Bal Harbour www.OneBalHarbourLuxuryCondo.com