The NEW Regalia Condominium in Sunny Isles Beach
With only ONE luxury residence per floor, the oceanfront Regalia Condominium in Sunny Isles Beach (also known as Regalia Miami) is a one-of-a-kind oceanfront condominium residences that is destined to be one of the finest and most sought after oceanfront residences in all of South Florida. The 37 Regalia residences feature unobstructed 360 degree views of the Atlantic Ocean, Intracoastal Waterway and all of South Florida from the floor to ceilings windows and 360 degree wrap-around terrace that surrounds your entire condominium residence. Enjoy sunrises over the ocean and evening golden sunset views over the Intracoastal each and every day from your luxury home at The Regalia Miami.
This architectural masterpiece epitomizes gracious and luxurious living on the ocean's edge. The unique flowing "organic" shape of this 47 story condominium tower appears to have been shaped by the ocean waves and wind - A truly unique and captivating design - The Regalia Miami is a work of art, in it's own right.
The 10 foot deep 360 degree wrap-around terrace surrounding every luxury residence allows the natural light to enter from all sides and brighten to the center of your home. Numerous "wet walls" within each residence allows for limitless floor plan arrangements by bringing plumbing any place you may wish.
A VERY unique opportunity for preconstruction purchasers at The Regalia Miami is the option to purchase your residence as a shell, allowing you to create your very own unique floorplan. Or the developer can provide a number of suggested floorplans.
Regalia Condominium Building Details include;
The Regalia ground floor - Lobby, Parking and Services
2nd floor - Pool Deck and Numerous Amenities
3rd and 4th floor - The Regalia Beach House - A two-story full floor 9,515 sq. ft. luxury oceanfront residence with 5 Bedrooms and 6.5 Baths and 6,500 sq. ft. of terraces with private plunge pool and Jacuzzi.
5th thru 42nd Floor - Single story full floor 5,515 sq. ft. residences with 4 Bedrooms and 5.5 Baths and 2,100 sq. ft. of wrap-around terrace.
43rd and 44th Floor - The Regalia Penthouse - A two-story full floor 9,515 sq. ft. residence with 5 Bedrooms and 6.5 Baths and 3,500 sq. ft. of wrap-around terraces.
Prices for the 37 Regalia Miami luxury residences range from $6 million to over $7 million for the condominium residences. The larger and unique 3rd and 4th floor two-story Beach House and the top floors two-story penthouse home pricing is available upon request.
Internationally celebrated glass sculptor Dale Chihuly has been commissioned to bring his vision and art to the Regalia Miami condominium property where he will create numerous pieces for the public areas.
The Regalia Miami construction broke ground in November of 2011. Projected completion is expected for the end of 2013.
Regalia Miami Construction Progress - The photos below was taken February 2013 - Construction as you can see is progressing! Current construction pace has 1 floor being completed approximately weekly. According to the sales group Regalia Miami is currently 60% reserved, leaving approx. 16 units still available.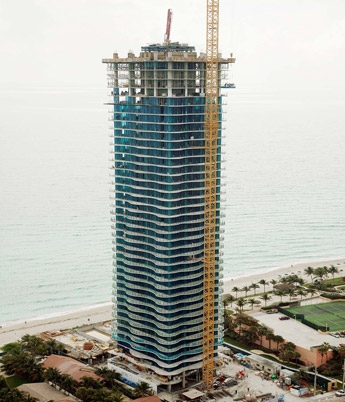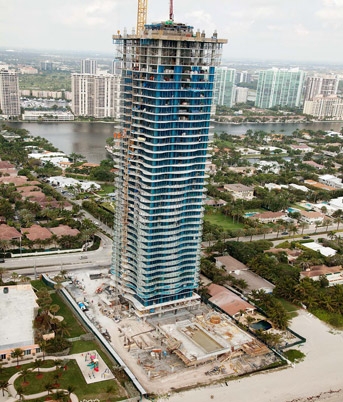 The Regalia Condominium Oceanfront Location
The Regalia Miami condominium is set on the last lot at the northern edge of Sunny Isles Beach and as such, the beautiful ocean, Intracoastal and coastline views to the north over Golden Beach will never be blocked by any future hi-rise developments, as Golden Beach only allows single family homes and no commercial developments of any kind. The views to the east, west and south are, as you would expect, beautiful and breathtaking. The views are all posted on the Regalia photo slideshow at the top of this page.
A note from Linda "G" - My career in real estate sales began as a sales representative working for 2 of the countries high-end luxury developers in the sales of preconstruction condominium homes. That experience in preconstruction sales spanned over a decade, with 7 years here in South Florida luxury condominium preconstruction sales. Allow me the opportunity and honor to use my extensive experience in preconstruction sales to represent you in your purchase of a luxury oceanfront home here at The Regalia Miami. Please contact me directly for more information on The Regalia Miami condominium or any other properties you may be considering in this beautiful oceanfront area of South Florida.
Additional Preconstruction Condominium Opportunities in Sunny Isles Beach include:
The Mansions at Acqualina - Construction began Aug 2012 - completion in 2015.
The Porsche Design Tower - Construction began April 2013 - completion in 2016.
The Chateau Beach Residences - Construction began Dec 2012 - completion end of 2014.
400 Sunny Isles - Construction begins early 2013 - completion in 2014.
Jade Signature - Construction begins mid 2013 - completion in 2016.